For most of us, a Rubik's Cube is an iconic 80s symbol of a really tough problem-and one we'd never attempt to solve. (As a child, my own grandmother would WOW me with her ability to solve one.)  But for one California family, the Parks, the Rubik's Cube is not an impossible-to-solve problem; rather, it's the solution to one: their autistic son Max's struggles with social and fine motor skills.
At age 2, Max Park was diagnosed with moderate to severe autism. His parents Miki and Schwan were told that Max would most likely need assistance for the rest of his life. For any parent, an autism diagnosis is devastating and full of unknowns—but for Max's parents, it would not be one that would define their child.
As Max grew, his mom Miki says, he faced social skills and fine motor delays common to those diagnosed with autism. "Max has many social challenges of creating conversation and understanding non-verbal cues and emotional expression on other people's faces," she says. But she never could have guessed that the solution for both Max's social delays and fine motor weakness was something most people consider a un-solvable problem — a Rubik's Cube.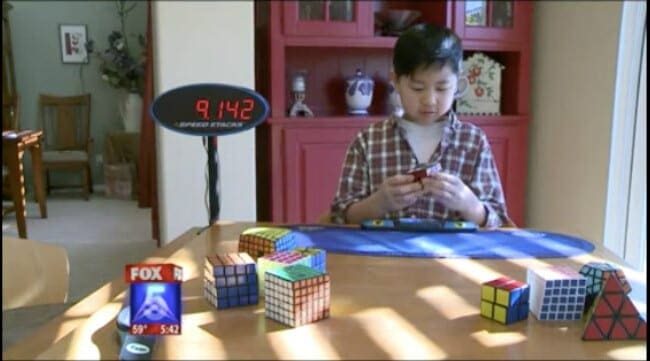 Max at age 10 solving cubes at home. Screenshot:Fox 5 San Diego
"Max was about 10 years old when he first received a cheap cube in a happy meal lunch from a local diner, " she says. "We thought it would be a good therapy tool for his fine motor skills as he had difficulty opening up a twist off coke bottle cap." The cube WAS great for Max's fine motor skills, but the Parks soon realized that participating in local cubing competitions—what is now popularly known as "speedcubing"–would be great practice for Max's social skills as well.
"At that time we knew Max was fascinated with speedcubing from Youtube, but we had no idea he was any good," Miki says.
It didn't take long for Max to prove that he WAS good—at his first competition at age 10, he had an average solve time on the 3×3 Rubik's cube of about 20 seconds. At his second competition, he won first place for the solving of the larger 6×6 cube. Miki and Schwan were delighted by Max's cubing success, but were even more thrilled by his SOCIAL success. "It was almost immediately we saw a calm from Max as soon as he was in competition cubing. After a few competitions, we noticed that he was having very short interactions with other cubers. We were probably more excited about his developing interest in speaking with other cubers, than the fact that he place 1st place in 6×6," says Miki.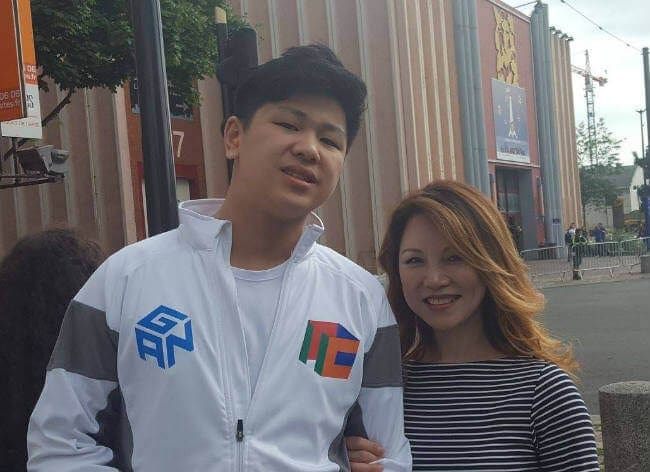 Photo: Max and Miki Park in Paris at the Rubik's Cube World Championships. Courtesy Max Park.
Soon, Max, whose cubing YouTube channel is "MaxFast" got really, REALLY fast at speedcubing. At the 2017 Cubing USA Nationals in July, he won the top title, U.S. National Champion, on the traditional Rubik's Cube, with an average solve time of just 7.06 seconds. And he also took home the National Champion title in the 4×4 cube, 5×5 cube, one One-Handed (yes, one-handed) solve events! At just age 15, Max has 4 National Championships—and one week later, he one-upped himself, winning the WORLD Championship in Paris, France in both the traditional 3×3 Rubik's Cube and the One-Handed events. His average solve times? 6.85 seconds with two hands, and 10.31 seconds with one. (Did anyone else's jaw just drop?? Simply AMAZING!) While he was at it, Max also set a new world record with that 10.31 one-handed average solve.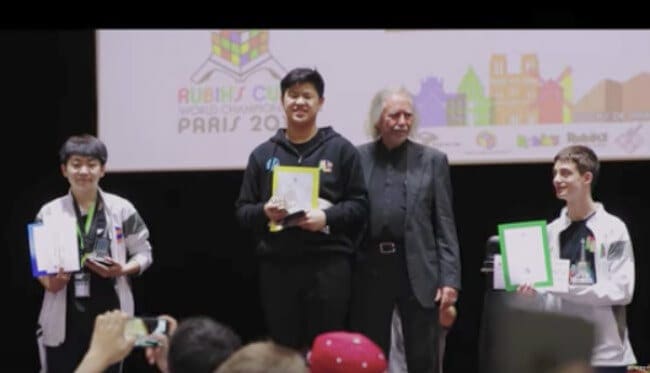 Max on the Podium at the Rubik's Cube World Championships in Paris.
In a touching short 5-minute film about Max by professional speedcuber and filmmaker Chris Olson (above, you HAVE to watch it), Max's dad Schwan describes the impact cubing and the cubing community has had on their lives. "Before cubing Max always had such a hard time looking someone else in the eye or even saying 'hello.' Even now, it isn't easy for him," he says. "But when he's in a cubing competition, he's much more open to looking other people in the eyes. I think there's an implicit trust with other cubers." He goes on to say, "We always hoped, but never thought that Max would get to this point. You go from being told that your son has autism and that he'll need assistance for the rest of his life, to then, him showing us what is possible. And he has taught us much more then we ever thought we would teach him." Max's mom agrees, saying, "He's taught me so much about how to achieve your personal goals when you are open to the possibilities that anything could be possible. And most importantly, he has shown me how to love life and treat each day we have as a family as if it's worth a million dollars."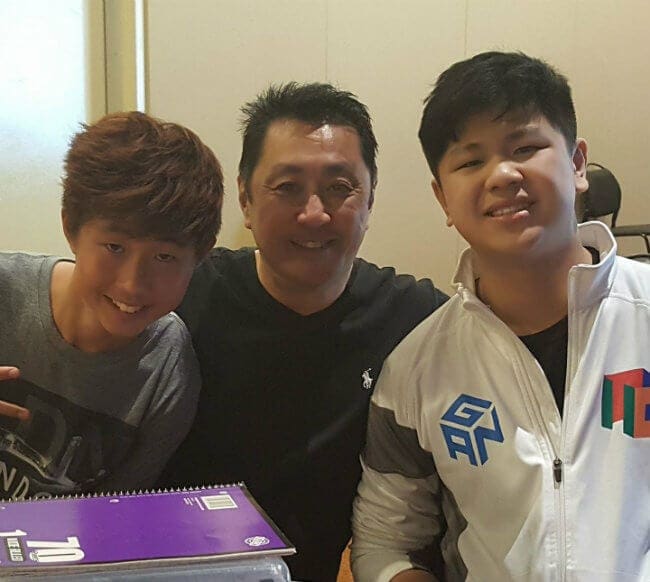 Max Park (right) with his dad Schwan Park and brother Jason Park. Courtesy Miki Park.
Filmmaker Olson met Max through speedcubing (Olson himself won 2nd place on the 2×2 cube at World's in Paris), and says he wanted to make this short film about Max because of "just how much his [Max's] life has been impacted because of a Rubik's cube. I love seeing how people's lives have changed simply by getting into speedcubing. His parents' dedication is also massively inspiring. I haven't met many parents as dedicated as they are." As luck would have it, Olson was on the same flight to Paris for the World Championships as the Park family. He struck up a conversation with Schwan Park about telling Max's story, and he says, "Before we landed we had a goal in mind and then he created a script." The result is the beautiful 5-minute story of a boy, a cube, and two parents who would not quit.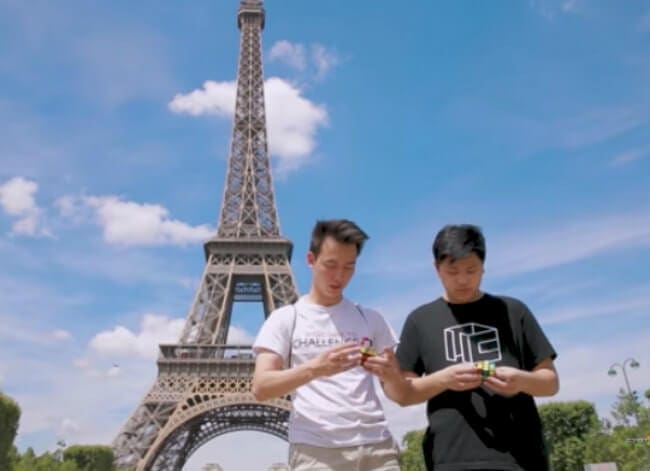 Filmmaker Chris Olson and Max Park solving Rubik's Cubes in front of the Eiffel Tower in Paris. Courtesy Chris Olson.
But the Park's story is more than just a story about THEIR family, it's a story about the larger cubing community, a tight-knit group of competitors-turned-friends, and the parents and family members who support them. Olson describes the way his cubers-in-arm have accepted Max and his autism as "very kind and understanding." Miki says she loves being a part of the cubing community because "it is one large cubing family. Our family away from home. It is so comfortable to meet other families with kids who are passionate about solving this cube. And because of that we seem to all know each other without ever having met before."
A World Champion and world record-holder at just 15, I predict Max Park is going to be a part of this big cubing family and an inspiration to cubing newcomers for years to come.
To learn more about Max, check out his Facebook page and YouTube channel as well as Chris Olson Films on Facebook and YouTube.