Courage can happen to anyone. Courage doesn't require us to be the smartest, strongest, richest, or most powerful superhero on the planet. It doesn't look a certain way, sound a certain way, or worship a certain way. Courage can belong to anyone and everyone—it exists in unlimited supply.
I used to believe courage could never belong to me because I wasn't charismatic. I've been thrown into plenty of challenging situations throughout my life, and I've realized that courage has nothing to do with how outgoing or extroverted you are and everything to do with your willingness to listen to that small call inside of you that tells you not to retreat. Even though fear and doubt will be screaming for attention, courage encourages you not to turn back. "Go on," courage says, "and keep going."
If you're ever forced into a legal deposition, you know about the hot seat. The hot seat is where they interrogate and rip you apart across a little table. I truly hope you never find yourself there. Being bullied for three hours by a person whose livelihood hinged on their ability to destroy me was an excruciating experience. I sat in the hot seat with my attorney on one side and Mike on the other. A stranger sat in the corner transcribing every word being spoken, and across from me sat the person who was trying to gain custody of my children. I wondered how I had gotten there, why somebody like me had been chosen for this moment, this experience. As I sat at that table ferociously defending my name, my children, and my family, I realized I didn't need to be bigger or louder to be courageous, I just needed to be me—unapologetically.
Courage isn't a myth or a mystical power floating in the ether, it is real and available to all of us.
Even if you don't see it, it is inside of you right now, so don't ever forget it's there. The ignition that makes your heart beat faster, courage is the whisper of hope telling you your voice will make a difference. A touch of courage feels like a hug and a push all at once. Even if you cannot see courage, it resides in you ready to burn bright.
One year, in the middle of the fight, Z's school had a "Daddy-Daughter Donut Morning" around Thanksgiving.
Each child decorated a pumpkin for their dad with words that described him. One of the words Z chose was "Courageful." Nobody had ever called Mike (or anybody) "courageful" before, so he asked her what it meant. She looked him right in the eye, flashed her big Z smile and replied, "It means you're fully of courage, Daddy. You're fully of courage because you protect me and keep me safe from anything bad."
Sisters, you might not know it or always feel it, but you are "courageful" too.
The morning Z looked into me and reminded me not to forget my courage ended up being one of the days I needed it the most. It was a brutal punishing court day, but because I had my courage, because I was aware of it, I wasn't afraid. Fear is life asking you to do something brave, so even if you don't quite believe you are ready, you are. Accept the invitation, step into your glory, and allow it to grow by making one hard choice at a time. Remember your courage every time you step out the door.
***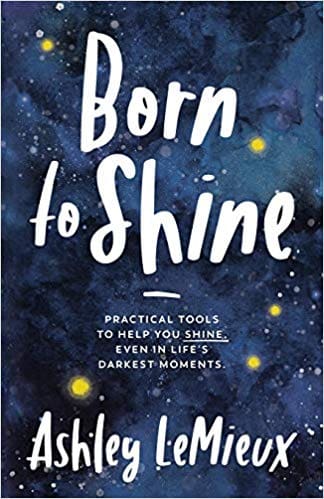 This is an excerpt from Born to Shine: Practical Tools to Help You SHINE, Even in Life's Darkest Moments. 
About Ashley LeMieux
When Ashley LeMieux and her husband lost their children in an adoption battle, it sent her into a tailspin that, ultimately, taught Ashley how to soar. Most people live with constant fears, burdens, and pains. Born to Shine shares Ashley's message of hope for women brave enough to say that everything is not okay. The message is also for those who want the courage to believe they are not done yet―the unique message that acknowledges the overwhelming truth that even when life is in ruins, people can still shine. Born to Shine tells the LeMieux's story in installments with alternating chapters and practical applications in between. It shares stories, lessons, and practical tools to help women shine despite the darkness, to press forward one day at a time even when there is no end in sight, and to turn their most painful moments into their greatest teachers and signposts to true, deep, unassailable joy. Grab your copy today!