My classmates and I bounced on green vinyl school bus benches all the way to the Mission in San Juan Capistrano. Fourth grade is California History with Native Americans, the Gold Rush, Sacramento government, and California Poppies. My favorite memory from fourth grade was the mural in Mrs. Nelson's class that covered the length of her room – I was in charge of the Redwood Forest.
Last year my home schooled kid and I were going to cover one of our own walls with a similar map. Just me, my fourth grader, and a pile of colored tissue paper. However, instead of bouncing together, side by side, mission to mission, we found ourselves bouncing between homeschool and private school. In the end, he traveled the California coastline through another teacher's lesson plans, because my plans didn't happen.
So I took a deep breath and exhaled faith as we made a new plan… only to hit another bump, and bounce back home again near the end of the school year. And my other two bounced a bit as well.
We bounced on bumps – bumps like diagnosis' that are easier to label than understand. We bounced on ADHD and impulsivity. Another child bounced from Asperger's and landed on "gifted". And the third boy bounced due to proximity, like when one child rolls into a ball in the middle of the trampoline and all the other children jump-jump-jump, and he goes flying.
Bouncing from label to label, from school to school, is tough. Tough on the children and tough on my pride, I'm coming to realize. But in the end, here's the humble truth… I'm just a mom, trying to do right with what we've been dealt, by the hand of a kind God. Still, bouncing around is sort of, well…  embarrassing.
Yeah, by the time fourth grade came to a close, I wanted to hide beneath my pile of unused California history lessons, but instead I tapped into brave and grabbed hold of hard. I decided not to compare myself to any of my friends who seemed to have their children's education in the bag! I I decided not to apologize to anyone either; not to the kids and not to my family, and not to the readers who witnessed our game of educational pinball – because I was doing the best I could for my particular little people.
 And so are you.
And there's grace in that.
Grace for one another, for our children, and grace enough to extend ourselves. One day at a time, one child at a time, one bounce at a time.
Instead of apologizing for the bumpiness of our lives, I decided to let Jesus take the wheel of our family school bus, as I slipped into the passenger's seat. Now every time we bounce from school to school, I'm able to eagerly anticipate that there's something good in store for us on this unpredictable ride.
For I know the plans I have for you," declares the LORD, "plans to prosper you and not to harm you, plans to give you hope and a future. (Jeremiah 29:11, NIV)
How true! Each bump has bounced us closer to one another, and closer to the place God wants us to be most of all… right in the palm of His hand.
IT'S NOT ABOUT PRIVATE SCHOOL,
PUBLIC, CHARTER, OR HOMESCHOOL.
IT'S THE SCHOOL OF DEPENDENCY,
ONE FAITH FILLED STEP AT A TIME.
Here we are on the cusp of spring, which means the end of another school year is just around the bend, and I'm wondering if you are feeling some bumps in the road of your children's education.  
If you are, I want to offer you some courage to go where the Lord is leading in this next season.
Perhaps it's not as simple as the school across the street was when we were growing up. K – 12, and yearbooks lined up in a row, like a complete set of perfectly matching teeth.
We're a ragamuffin band of personalities in our home, trying to meet the needs of radically individual children. From where we are standing today, as we near the end of another school year, it looks as though we'll be doing the same thing next fall that we're doing this year. Two kids will be home schooled through a public charter, while the third attends a private Christian school close to our home. Lord willing, we'll make it through without any big bumps. But if we do bump, we'll do it together. As a family. Without comparing ourselves to others and without apology.
 God is so good to give me the eyes to see that today. Today. Because there are still moments on other days when I feel a little embarrassed, wishing we were steady and simple. But, dear friends, we don't have to be. God is steady as a rock, immovable. And our home is built on Him. God is sovereign above all the ages, and all the changes, and all the bumps in the long road of mothering.
 God is the ultimate teacher. And His lesson plans are never thwarted.
 FROM THIS HOMESCHOOL, PRIVATE SCHOOL, PUBLIC SCHOOL BOUNCING MAMA, TO THE REST OF YOU: MAY PEACE, AND GRACE, AND BRAND NEW MERCIES BE YOURS TODAY!
Wendy Speake is the co-author of Triggers: Exchanging Parents' Angry Reactions for Gentle Biblical Responses and a featured speaker at the Great Homeschool Conventions. Regardless of whether you are homeschooling, public schooling, or private schooling, you are welcome to join her next weekend in Greenville, South Carolina https://www.greathomeschoolconventions.com/locations/greenville-sc/ ; or next month in Cincinnati, Ohio https://www.greathomeschoolconventions.com/locations/cincinnati-oh/.

Find out more about The Great Homeschool Convention visit their website!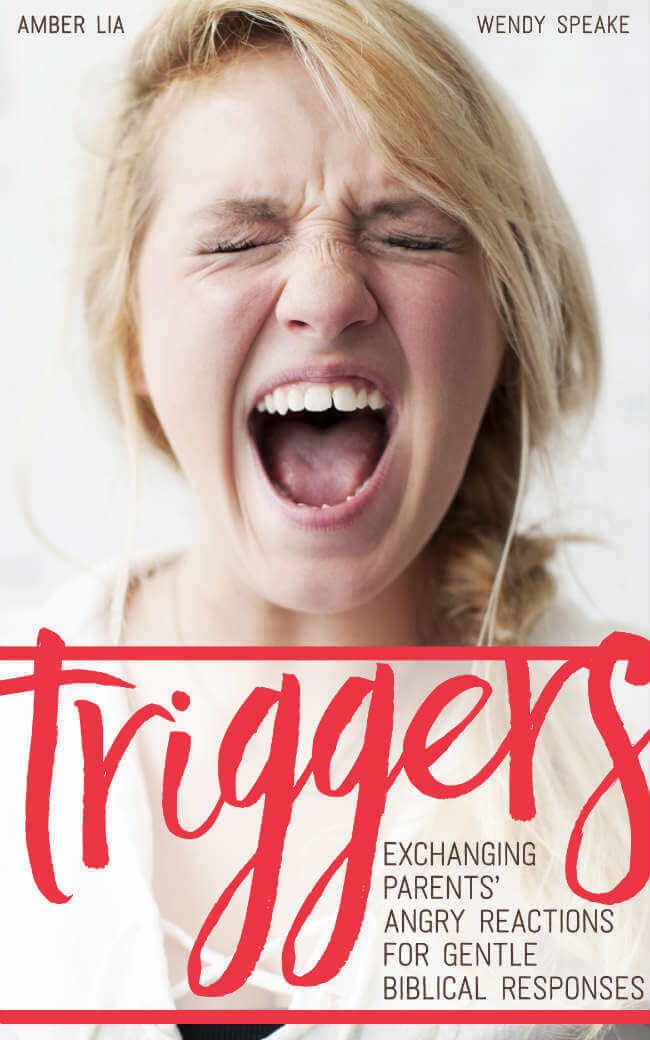 Buy Triggers at Amazon or connect with Wendy at WendySpeake.com .