Well friends, we are cruising on through 2020 and there has never been a better time to be a new mom! Seriously, the baby products available to us today would have been unthinkable at the start of the last decade. Everything from formula Keurig machines, to monitors that allow you to hear your baby's heartbeat THROUGHOUT pregnancy, the market is loaded with anything to make this whole #MomLife a little easier.
But with all of the trendy new baby products on the market today, what's a new mom to do? How do you know what is worth the bang for your buck?
Have no fear mamas, we've done all of the hard work for you.
We've compiled a list of mommy must-haves to take the guess-work out of shopping for baby products. Check out the list below, and start filling your registry with this year's latest trends.
20 Baby Products that Every New Mom Needs in 2020
Y'all, it is no secret that we LOVE us some Kristen Bell. Whether she's forking kidding with us on The Good Place, or keeping it as real as real can be on social media, this girl is a fan fave. So when she and hubby Dax Shepard released an adorable line of premium baby products at non-premium prices, we knew we could get on board!
View this post on Instagram
According to the website, the heart behind Hello Bello is simple: "We believe that parents shouldn't have to choose between what's good for their babies and what's good for their budget."
In addition to being totally affordable (seriously, a box of Hello Bello diapers costs the same as Walmart's house brand), Hello Bello products are plant-based, and free of "paragons, phthalates, and risky other ingredients."
If all of that wasn't enough to sell you, just look at how stinkin' cute the designs are! And you guys, these aren't just cute. They WORK.
Hello Bello products are available exclusively at Walmart and on their website. Bundle and save even more by subscribing at HelloBello.com. For just $65 per bundle, you receive 7 packs of diapers (you pick the size and patterns), 4 packs of 60-count wipes, 15% off additional items (they sell everything from body wash to laundry detergent, to vitamins, to bug spray), and you can earn rewards and freebies.
Friends, grocery shopping will never be the same. Gone are the days of lugging a 50-pound car seat into the store and taking up all of the room in your shopping cart. The Binxy Baby shopping cart hammock is a TOTAL game-changer when it comes to baby products! And it's as adorable as it is durable.
Using two layers of high-quality upholstery weight fabric and reinforced seams, the Binxy Baby shopping cart hammock will hold up to 50 pounds. Its durable clips ensure baby is safe in your shopping cart, without taking up all of your space. The best part is, when you're finished with your Target run, simply take baby out, roll it up, and store it away! Binxy Baby shopping cart hammocks are small enough to fit in your purse or diaper bag with ease!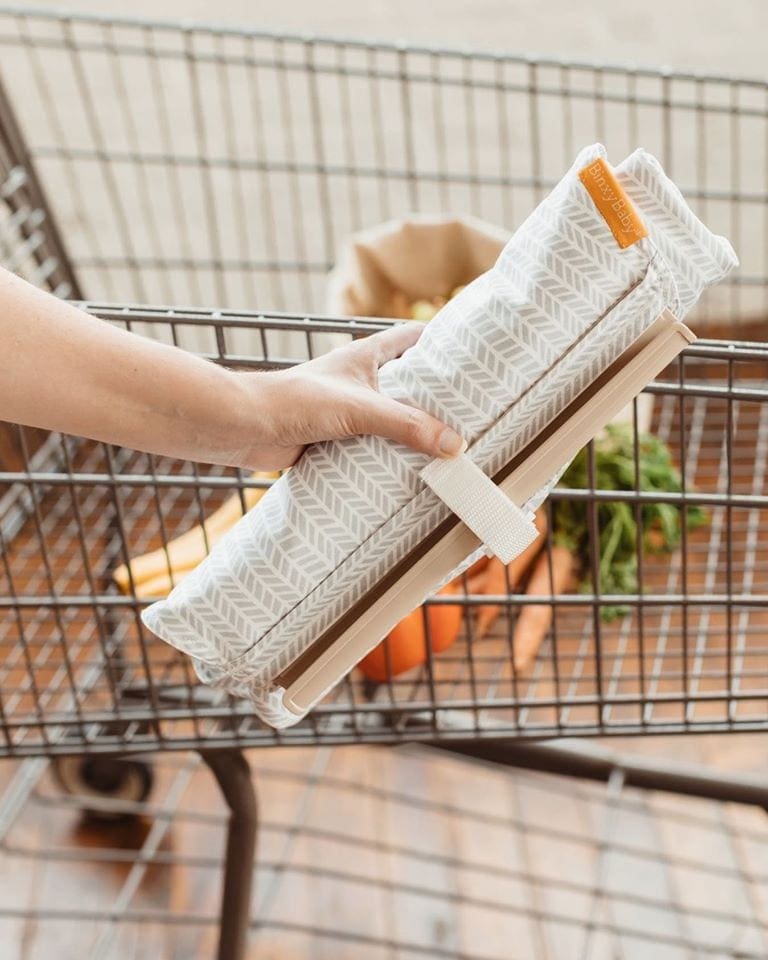 Swaddling has long been shown to promote better sleep patterns, improve rest and cycle regulations for your baby. But as SwaddleDesigns creator, Lynette Damir has observed over the years, many parents swaddle their babe beyond 3 months, which is unsafe.
SwaddleDesigns' Safe Sleepwear Guide makes it easy for parents to get more sleep and make safe choices.
From swaddling blankets, to Transitional Swaddle Sacks to the zzZipMe Sack wearable blanket, SwaddleDesigns will have your little one sleeping peacefully, which means more shut-eye for you, mama!
Their Three Stage Sleep System provides beautiful baby products for each transitional stage of baby's sleep.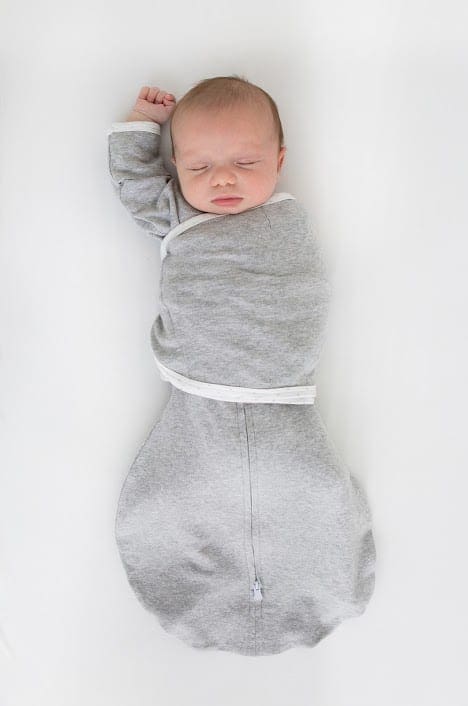 Stage One (age range 0-3 months or until baby can roll over):  Swaddle to suppress the Moro Reflex (the reflex which "startles" the baby awake). SwaddleDesigns Swaddle Sack® with Wrap keeps newborns cozy and secure.
Stage Two (age range 3-6 months): Partial suppression of the Moro Reflex. The Transitional Swaddle Sack® – an important innovation in safe sleep for babies who can roll over, but are not ready for a loose-fitting sleeping sack. Swaddle Sack® bridges the gap between a classic snug swaddle and a sleeping sack.
Stage Three (age range 6-18+ months): No swaddling, use a wearable blanket for safe sleep. The zzZipMe Sack® keeps baby warm and safe. Includes a 2-way zipper and available in a multitude of fabrics.
With luxury accents, vegan leather trip, and yoga-inspired fabric, you'll forget you're even carrying a baby in Boppy's ComfyChic Baby Carrier!
The thoughtfully designed adjustable underarm straps provide comfort and makes sharing among caregivers easy, even great for breastfeeding. Adaptable seat width, achieved through wrapping techniques, allow for 4 ergonomic carrying positions: newborn front face-in, front face-in, front face-out and side-hip carrying from 8-35 lbs. Breathable, performance mesh panels provide privacy while allowing for airflow, perfect for those cozy cuddled moments with your little one.
Friends, this is one must-have baby product that every new mom needs on their list this year! It stows away easily and can be tossed straight into the washing machine.
As part of their Mama Bear Campaign, Boppy's beautiful 4 & More Multi-Use Cover is one you just can't beat.
With breathable mesh on one side to provide airflow and keep you both cool, and full coverage knit on the other side, breastfeeding is a breeze with maximum privacy AND comfort. The airflow side over the car seat keeps your baby covered and cool. The privacy side is great to help eliminate distractions while nursing on the go. Includes Peek Panel™ mesh to view your baby while snug in the car seat or while nursing. Also great as a shopping cart cover, baby carrier cover, restaurant high chair cover and stylish infinity scarf.
It's all part of their mission to give Mama Bear the ultimate comfort she deserves.
6. Perry Mackin Silicone Baby Bottles
This is a big one mamas! One of the most common threads I see in all of my mommy groups among new moms is "what type of baby bottle should I buy?"
And while there are literally a million options on the market, one baby product you'll never regret buying is the Perry Mackin Silicone Baby Bottles.
With their unique design to be as familiar to baby as mom's breast, Perry Mackin's extra soft high-grade silicone nipples provide the perfect solution for switching between breast and bottle. For a more natural feeding experience, different flow rate nipples are available to mimic mom's nipple changes during nursing.
The ultimate gift for any new or expecting mother, The Elephant Organics Mom & Me Trunk Sets are the perfect way to welcome baby into the world!
Made with 100% purely organic cotton, these matching pajama sets are THE softest thing you and baby will touch during your first few weeks together. Choose one of the pre-designed snuggle trunk sets, or customize your own!
Mamas, we've all been there. Baby drops their pacifier on the floor and what's a girl to do? Wipe it off and give it back (5 second rule, am I right?) or, stash it away to be cleaned later — risking one very unhappy babe? With so many germs and bacteria floating around, the very last place we want it to end up is on the one soothing thing that goes in our baby's mouth!
Enter: The Pop Pacifier.
Doodle & Co. has solved all of those problems FOR GOOD, with their revolutionary pacifier, designed to never touch any surface.
When this pacifier takes a tumble, the nipple pops back into its built-in protective silicone bubble- reducing unwanted surface contact.
Pinch to tuck the nipple away when you're on the go. Simply throw in your bag or tuck in a pocket and the nipple stays protected.
In the spirit of keeping things like pacifiers and sippy cups off of the floor, one baby product we are obsessed with this year is BooginHead.
For these guys, it's all about the grip.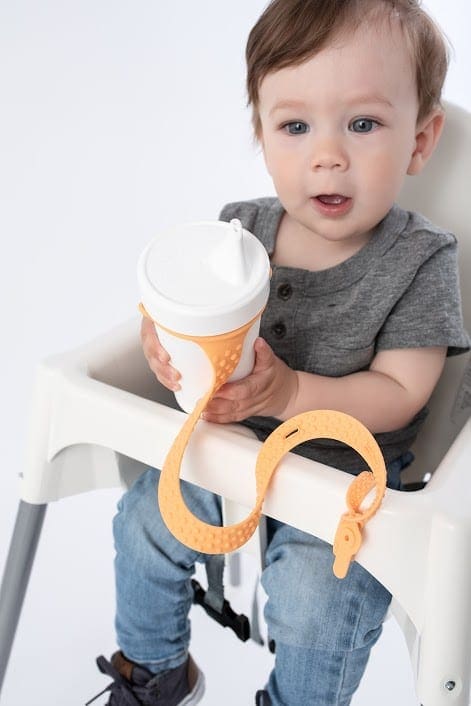 BooginHead started with their original SippiGrip in 2007, an award-winning tether that keeps babies' cups from taking a spill all over your floor at every meal.