Flu season has arrived my friends and parents are turning to a new trend of posting a 'do not touch sign' on babies' car seats for ALL the right reasons.
One child has already reportedly died this week after contracting the flu, and this is only the beginning of what is to come.
The flu death toll in America last year was the highest in four decades with over 80,000 total deaths, and more than 900,000 hospital visits reporting flu-like symptoms, according to the Centers for Disease Control.
The CDC recommends that those 6 months and older get a flu vaccine before the end of October.
Parents of infants are taking things into their own hands to ensure those delicate little babes, stay safe from other peoples' germs.
A new trend of "No Touching" car seat tags have BLOWN UP on Etsy in recent months and they're getting a mixed reaction from the parenting community.
The signs, which are meant to be hung on car seats, strollers, and even outside of hospital rooms, are the polite and fun way to ask strangers not to touch their baby.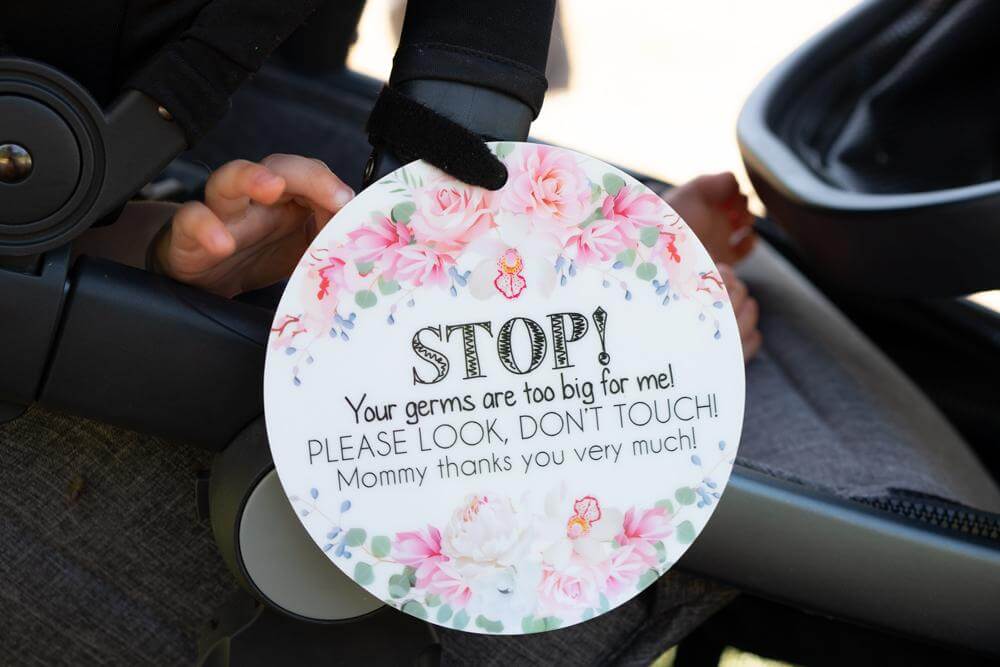 A baby's immune system isn't fully developed until their second or third month, which leaves infants and those under 6 months of age at an extremely high risk of contracting infection and deadly flu viruses. They can't be vaccinated, and often times can't be treated with powerful medications like older children.
Of course, the parenting trend has garnered plenty of *thoughts* from those across the internet. The use of "No Touching" car seat tags has actually become a debate on several Facebook feeds, particularly that of Breastfeeding Mama Talk.
Earlier this year, the popular mommy blogger turned to her 1.1 million followers, asking if they would ever use one of the car seat tags.
Thoughts? Would you put this on your baby's car seat?