Unfortunately, that was not the way things were handled.
Instead, Heather found a note from the daycare WRITTEN ON HER SON WITH MARKER when she went to change his diaper yesterday afternoon.
The note, which was written across the entire front of the young boy's body read: "Mom I'm out of diapers pls read my report."
Heather says after scrubbing several times with baby wipes, the note failed to come off.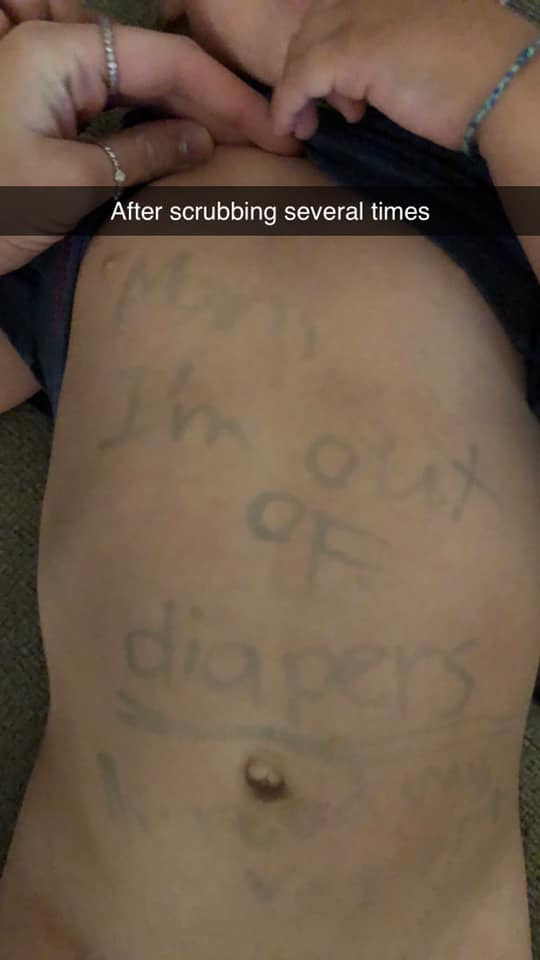 "Why a big long message needed to be written across my sons stomach is beyond me," she said, adding that this isn't the first time this has happened to her.
Overnight, Heather's post garnered hundreds of comments and nearly 30,000 shares from appalled parents across the internet.
In a statement, the director of the daycare center said the incident was a breach of professional efforts, and the teacher involved has been fired.
"We are aware of the incident at the school, and we are terribly sorry for the distress it has caused the family involved as well as all of our families. It was a breach of our professional ethics on the part of the teacher," said Cindy Carter DeCosta,  executive Director of the Children's Education Center of the Islands.
"The school has taken immediate action to remove the teacher from the school. We are reviewing protocols already in place to ensure that nothing like this occurs again. We are proud of our school, love our students, and are eager to make our school a better place as we move forward."
Heather has since pulled her kids from the daycare center, but is struggling because it's the only place on Sanibel Island that will take a child her son's age.
"There's no other place on the island for someone as young as he is," she said.
Her post brought hundreds of responses from mothers who are outraged FOR her, many of which have commented with encouragements for the young mom.
A spokeswoman for the Florida Department of Children and Families said the agency is looking into the incident, along with the Early Learning Coalition of Southwest Florida in Fort Myers.